Students from the Communication University of China (CUC) are calling the Centre for Digital Media home for the next 4 weeks as they take part in the CDM's 4th IDEA-X Program.
These nineteen students from Beijing will be very busy in the next month going through the development lifecycle for a digital media product and touring some of Vancouver's digital media companies. They'll also be given the chance to network and meet industry leaders.
Started in 2010, the IDEA-X Program is a 4-week digital media bootcamp, immersing students in the fundamentals of collaborative design and rapid prototyping while helping them practice their English language proficiency. It provides a great opportunity for them to learn new processes in the creation of digital media products using design-thinking methodologies.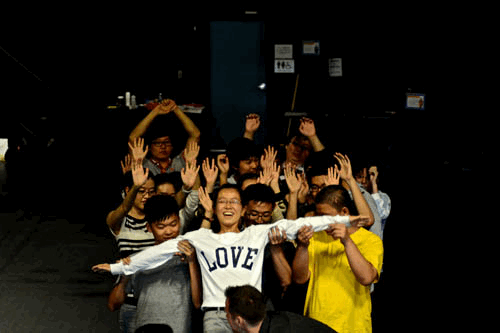 On their first day of classes, just like students in the Master of Digital Media program, the IDEA-X students participated in a crowd surfing trust exercise as a way to, "know what it feels like to support others who depend on you, and in turn to feel supported by them," explains Patrick Pennefather, supervisor for IDEA-X. The crowd surfing exercise introduces IDEA-X students to the key aspects of collaboration and working with a team.
After the first few days of learning concepts and skills such as ideation, brainstorming, persona development and pitching, the students are given 48 hours to develop a prototype and 9 working days to build their app or game.  After the build, the students end their experience at the CDM with a final presentation where student teams pitch their prototypes to a panel of industry representatives and Master of Digital Media students.
The February IDEA-X students who went through this process created some very cool and innovative games and apps, including a motion-activated game, a mobile social app and an iOS game.
Fore a taste of what they can produce, here's a video of one of the games created by one of the February IDEA-X student teams: