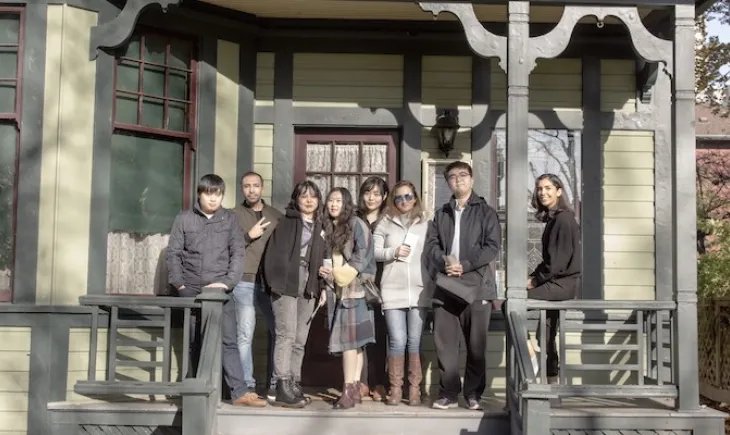 The Pre-MDM program graduated its fourth cohort in April. In just four years, Pre-MDM has become an integral program to the Centre for Digital Media. As a qualifying program to the Master of Digital Media program, Pre-MDM goes hand in hand with the MDM and with the digital media industry in Canada. Pre-MDM graduates often become top students in the MDM program.
For students whose first language isn't English, the program focuses on cultural immersion, hands-on project work and improving professional vocabulary and know-how.
Developed by faculty Aida Osian and Jason Elliott, the program is for ESP (English for Specialized Purposes) students who are looking to improve their technical communication in English, work on digital media project simulations and pursue the MDM program.
It is based on a flexible curriculum, targeting areas of improvement like project software skills, public speaking/pitching, writing documentation in a variety of technical fields and listening and reading comprehension in digital media.
Students are offered individual training as well in the form of one on one conversation sessions and writing boot camps for IELTS/TOFEL testing preparation. They also benefit from project-based field trips in the Vancouver area, Canadian cultural immersion clubs and grammar sessions, all intended to refine communication and soft skills for their future professional lives.
Pre-MDM students appreciate the practical courses and their direct application to the MDM program and working in Canada. The year in Pre-MDM is seen as an intimate "family-like" experience, where everyone is getting accustomed to living abroad and acclimatizing to a new language and culture.
We learned all the skills we need: how to greet people, how to showcase your portfolio, how to reply to others officially, how to introduce yourself in an elevator pitch. We implemented these skills into our projects and built a bunch of exciting works, which convinced us we could be more successful in the MDM program." - Andre Wang, Pre-MDM Graduate
If you want to use language for different purposes properly, you need this program, and it will give you an upper hand for your future development. For example, pitching and technical writing skills aren't only related to elevated vocabulary but using proper words to make it sound natural, and choosing to use jargon or not. From my personal experience, I think it's hard to learn them by yourself, and it was hard to find a language program like this, especially closely related to your interested major." - Wynn Chen, Pre-MDM Graduate
Pre-MDM runs for 8 months (September - April) and is split into 5 streams. This year, the students covered:
Pitches and Presentations
Students practised a variety of public speaking techniques, from elevator pitches to more focused and detailed presentations. They played the role of clients, tour guides and project managers. They designed slides and infographics and other visuals. They also spend time improving their language skills, both verbal and nonverbal.
Technical Writing and English for Digital Media
Students learned different documentation types and technical writing protocols and delivered their final project to Larry Bafia, the Director of the MDM program. He offered feedback and a glimpse into what it means to be a future MDM student. In the project proposal, students worked in teams to improve Roedde House Museum's visitor's experience by introducing interactive games and applications to their website.
Communication Skills & Project Software Skills
Students worked on a wide range of projects, creating prototypes for games, movies and mobile apps. This year, they even designed an experience for the Hololens! Their final project was to create a transmedia product to tell a story across multiple platforms over time. Overall, the students learn a lot about team communication, design thinking, rapid prototyping, and embracing change.
Recent Pre-MDM graduate Emma Liu sums it up nicely:
During the past eight months, we have learned so many useful and practical things for the preparation of the upcoming MDM. Unlike the other ESL courses, the setting of the courses in Pre-MDM is more reasonable and realistic and digital media based. These courses have significant connections with MDM and teach you how to live a better life in Canada. In Pitch and Presentation classes, we learned a lot of presentation skills...In Technical Writing courses, we learned how to write a good game script, how to build a professional CV and how to put together a better portfolio with local expressions that suit the employment market. In English for Digital Media courses, I learned how to write a perfect MLA format academic essay and how to do the research before starting it...After these eight months, you will be more ready than anyone else for the coming MDM."
Interested in Pre-MDM? We're accepting applications now.