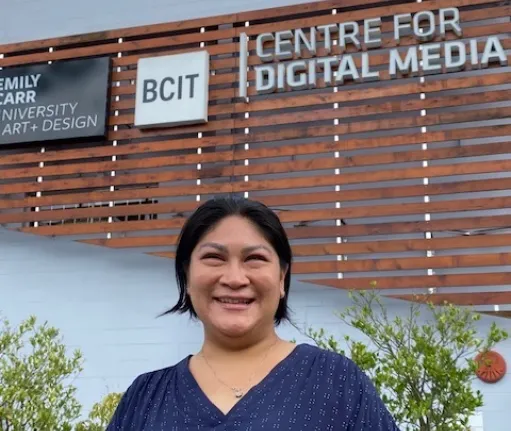 For Immediate Release
August 23, 2022
Vancouver, B.C. – Centre for Digital Media ("CDM") has appointed Mary Lim to the role of Director of Programs and Innovation (DPI). The creative tech ecosystem in Vancouver is innovative, inspiring, and expanding and it will need high-level talent to sustain this growth. Mary will be an enabling force behind program and curriculum development, educational delivery, industry and community-based partnerships, and applied research at CDM and within Vancouver's Creative District.
"We are thrilled to have Mary join our team. She is an inclusive, creative, and high impact leader in educational development who is driven to build transformative learning experiences in close collaboration with industry," says Dr. Ted Gervan, Managing Director at CDM. With 15+ years' experience across non-profit, public, and private sectors in teaching, program development, and instructional strategy, Mary has led instructional onboarding, training, professional development, and classroom technology use.
Mary joins CDM from Vancouver Film School (VFS), where she led instructional support services for more than 300 full-time and part-time instructors teaching in 20+ long and short format programs through tailored coaching, resource, and workshop development, and front-end LMS support. Among her many accomplishments, during the height of the COVID-19 pandemic in 2020, Mary led the school-wide pivot to online learning.
She also worked closely with industry and educational subject matter experts to develop and implement two of VFS's programs: English for Creative Arts, and VR/AR Design & Development in partnership with Vancouver Community College (VCC). She previously supervised a team of talented instructors including CDM alumni. "I have hired and worked with many CDM grads who are contributing to their respective industries in amazing ways, and I look forward to playing a role in supporting the development of future creative tech talent in Vancouver's growing ecosystem. I'm excited to collaborate with colleagues, our partner institutions, and industry in finding opportunities at Centre for Digital Media and to ensure that our educational programming and partnerships are meaningful, diverse, and inclusive," says Mary.
In previous roles, Mary also designed language and support programs for new Canadian immigrants. She is a global citizen and a lifelong learner who loves culture, language (English, Hokkien, Japanese, Mandarin, Spanish, and Tagalog) and supporting experts to build meaningful educational experiences.
Mary holds a Master's degree in Education from the University of Calgary, a Bachelor of Arts from UBC and most recently, completed a professional certificate in Learner Experience Design from the Ontario Institute for Studies in Education at the University of Toronto. She also holds a TESOL certificate and a certificate in eLearning and Online Instruction from VCC.
ABOUT CENTRE FOR DIGTIAL MEDIA
Located in the heart of Vancouver, Centre for Digital Media is a thriving campus for entrepreneurship, education, and public engagement. A groundbreaking joint venture between the University of British Columbia, Simon Fraser University, Emily Carr University of Art + Design and the British Columbia Institute of Technology, this destination along Great Northern Way within the new Creative District, is home to a pioneering master's degree program, student housing, open space, coffee shops, artist and game studios, and tech workspaces for creative industries. Graduate students of the Master of Digital Media program receive a powerhouse degree bearing the seals of the four partner institutions and connections to globally recognized industry partners. 2022 marks the 15th anniversary of this innovative program and the beginning of a new phase of strategic growth and community transformation.
-30-
For more information, please contact:
Elyse Economides, Manager of Marketing & Communications