Lease opportunity
Be a part of the Creative District. Available for lease is a large creative office and studio space.
Property overview
160-577 Great Northern Way
8,721 SF
Net Rent: $21.50 PSF
2023 Operating Costs: $13.50 PSF (hydro included)
City-billed Taxes: approx. $15,000/year
Zoning: CD-1 (402)
Available now
Benefits of being part of CDM's ecosystem

Collaborate with CDM
Potential to work closely with industry veteran faculty members on multidisciplinary student R&D innovation team projects.

Access multidisciplinary talent
A talent pipeline connecting to the Master of Digital Media program's highly diverse pool of students, new grads, and alumni.

Funding opportunities
Access to Mitacs' funding programs and faculty engagement.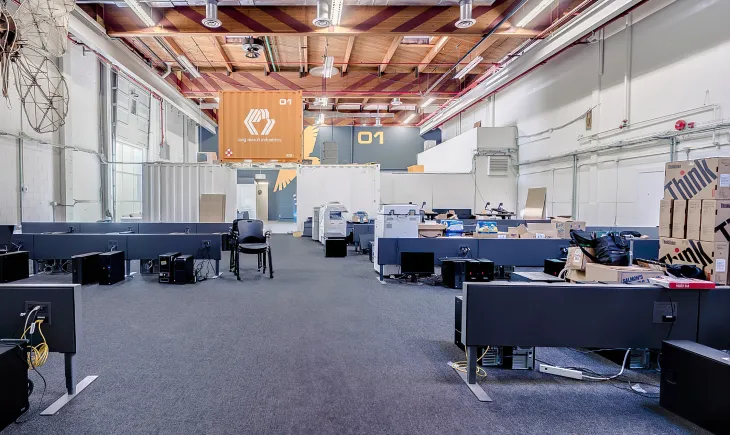 Features
Bright, open concept with a two-storey (28') ceiling and 12 coverable skylights
Versatile production/programming/maker/office options
Network-ready with extensive power in this industrial-strength mid-century building
Four enclosed spaces for meetings or offices
Mix of carpeted, concrete and polished concrete flooring
Optional: three shipping containers in situ for varying storage options, including servers
Current 577 neighbours include Ayogo Health, CDM Programming, Departure Lounge Inc., DigiBC, Hammer & Tong Picture Industries Ltd, Kafka's Café, Variational AI
District neighbours such as Lululemon, Electronic Arts, Samsung, Emily Carr University of Art+Design
Amenities
CDM property monitored 24/7 by Paladin Security
Monthly reserved and hourly pay-parking (uncovered) available
EV charging stations on-site
Transit within 30 seconds: cross-town bus stops
Transit within 1min walk, by early '26: Great Northern Way – Emily Carr Station (Broadway Line)
Transit within 10min walk: VCC–Clark Station (Millennium Line), Main Street Station (Expo Line)
Bike-friendly access via Central Valley Greenway, MOBI bike-share stations, plus secure 24/7 bike room
577 gym and changing rooms open daily, complete with showers and lockers
Food options include Kafka's Café, weekly food trucks, plus nearby restaurants in the District, Mount Pleasant, Olympic Village