Centre for Digital Media (CDM) Summer Bootcamps are two-week intensive summer camps designed for high school students age 15-18 with artistic or technical interests who want to explore educational and career opportunities in the video game design and immersive technologies industries.
July 31 - August 11
Monday to Friday, 9:00am to 3:00pm
This course is part of the UBC Future Global Leaders On-Campus Pre-University Program and is offered at the Centre for Digital Media in Vancouver. While the Summer Bootcamps take place at the Centre for Digital Media, please direct any questions about registration to UBC Extended Learning.
Gain hands-on experience with immersive technologies
Students can choose between three bootcamps that focus on video game creation, virtual reality, or designing 3D assets for the Metaverse.
Taught by instructors with years of experience
The three bootcamps are taught by instructors who have experience in teaching and industry, providing students unique insights into what a career in the digital media industry is like.
Use the latest hardware and software
Students can explore their creativity and problem-solving skills by using the latest technologies and software like the Oculus Quest 2 VR Headset, Unity, or Blender.
Housing available for students
Students can apply to stay in housing at the University of British Columbia. Please contact UBC Extended Learning for more information.
Explore the courses
Students work in teams in a fun and interactive environment and can choose from three different bootcamps.
Game Design Bootcamp: July 31 – August 11, 2023
Develop a working video game from scratch.
Work in a team to build a unique playable game. Students will discover how a video game is developed - from ideation to prototype - and learn skills like:
Game design and critique

Storytelling
Choosing team partners and working in groups
Improvisation and role play
Rapid iteration, prototyping and design essentials
Monday to Friday, 9:00am - 3:00pm
Each day starts out with fun, active exercises focused on effective communication, collaboration, listening and building trust.
These are followed by lessons on brainstorming, problem solving and project management that will help you explore and develop ideas, collaborate as a team, and understand how to scope a project.
In the afternoons, you'll have a chance to try different software applications to develop your skills to create digital art, iterate designs and code game prototypes.
Instructor
Mars Balisacan is a Development Director, Senior Game Designer, and Producer who has worked on games from mobile, casual, online multiplayer to AAA titles. With a background in computer science and digital media, and 20 years of professional experience in the games industry, he has worked as a lead in technical, design, creative, and management roles for various game development startups. He has co-founded three game development studio startups and has managed teams in remote environments for various international studios.
Jason Elliott is a digital media expert with more than twenty years of development experience. He began his career in the mid-90's as a video game artist at Konami, where he quickly climbed the ranks to become a lead artist. Seeking new challenges, Jason attended the Vancouver Film School to study film and storytelling where the short film he wrote, directed and produced was selected as a finalist for the BC Film Director Internship Program. With cinematic skills in hand, he returned to the game industry as a designer at Radical Entertainment, shipping several acclaimed titles including Hulk, Hulk Ultimate Destruction and Simpson's Hit & Run.
How to Register
Please note, registration for this session takes place through UBC Extended Learning.
Register Now
3D Asset Creation Bootcamp: July 31 – August 11, 2023
This bootcamp introduces students to the tools you will need to create 3D assets for the metaverse. Students will gain an understanding of how 3D assets are made, manipulated, and captured. Find out how these skills are being applied in building virtual worlds for various industries, including games, animation and e-commerce.
In this 3D Asset Creation hands-on bootcamp, explore some virtual spaces to study existing models, and see how primitives and other techniques were used to create them. Learn how 3D objects are created, and get some practice building a model of your own in Blender. Get experience with photogrammetry – the process of scanning an object, cleaning up the data from this process, and optimizing the object for various platforms. Put all your 3D models on an online platform to show off your work.
Students will learn skills like:
Making their own 3D models using Blender
Adding texture and materials to their object to make it more realistic
Analyzing and repurposing existing models for various use-cases
Photogrammetry and cleaning up scanned objects
Optimizing and exporting your model to display

Monday to Friday, 9:00am - 3:00pm
In the second week of camp, you will also be visiting Departure Lounge, a Metaverse company, to learn how they use tools and technologies deigned to facilitate the transfer of humans and objects into and out of the Metaverse. There will also be guest speakers from Mozilla Hubs who will talk about the various ways people use their virtual platform and how you can integrate your 3D Assets into a Mozilla Hubs platform.
Instructor
Conor Woodard is a 3D Artist and mentor. He has worked for other 10 years in the industry: modeling, texturing, shading, lighting, rendering, compositing, and even rigging. He has held senior positions on Dreamworks and Nickelodeon projects, worked as a creative director, a freelance artist, and started his own studio creating virtual spaces for VR and the metaverse. He has taught professionally for 6 years and was recently appointed artist in residence for Mozilla.
How to Register
Please note, registration for this session takes place through UBC Extended Learning.
Register Now
"The instructors were great and very helpful and you get to learn the full pipeline of game production, plus the fundamentals of game design and story flow—if you're considering a career in the game industry".
- Summer Bootcamp Student
"My daughter hugely enjoyed – and benefitted from – the CDM Summer Bootcamp. She and her peers were interested and highly motivated, the program was goal and process-oriented, and the instruction was not just instruction, but inspiration! The best part for her was problem-solving and building a product with a group of people who were just as hard-working and committed as she is".
- Parent of Student
"I had an amazing time meeting new people and working with them. Everyday I'd wake up and I'd feel excited to actually go to this camp. I'd always walk home with a smile on my face because of all the things we'd done and learned".
- Summer Bootcamp Student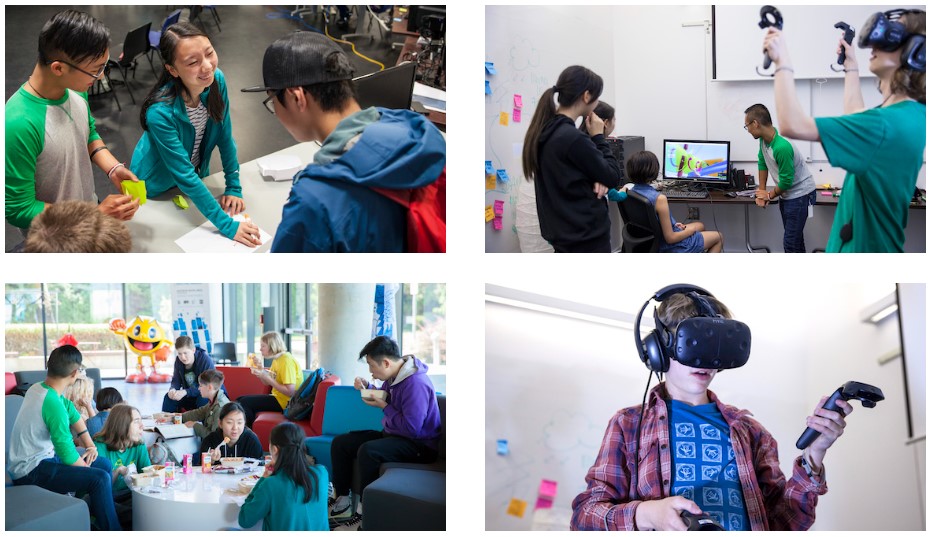 ​