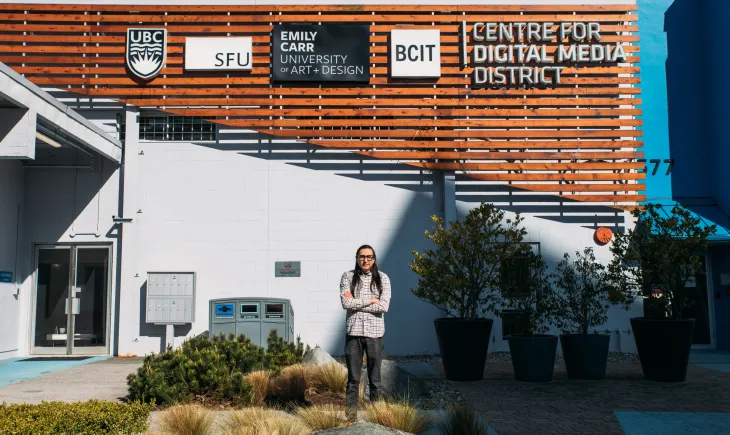 Centre for Digital Media graduate John Pantherbone hopes to see more Indigenous students in the cutting-edge Master of Digital Media program in Vancouver.
My name is John Pantherbone and I'm Blackfoot from Blood Tribe in southern Alberta. I graduated from the Master of Digital Media (MDM) program in 2012 with the C4 class (Cohort 4).
Reflecting on my time at Centre for Digital Media (CDM) that started a decade ago and seeing where it led me makes me hope that more Indigenous students follow this path as well. The MDM program is a world-class, multidisciplinary program that is highly regarded in the digital media industry, and we need more Indigenous people with this type of education.
If we're going to use digital media to tell our Indigenous stories, then we need to become Masters of Digital Media.
I have been noticing more and more Indigenous people taking programs in the digital media field; however, I don't see many taking graduate level programs. Certificate and diploma programs teach good technical skills, and they may get you a foot in the door with digital media companies or projects, but they lack the management and leadership skills that are the hallmark of the MDM program. If you have a passion for digital media projects or telling Indigenous stories and experiences through digital media, then the MDM program is for you. Whether you want to create video games, interactive media projects, virtual reality experiences, or mobile apps and games, or create your own Indigenous media startup, the MDM program will give you the skills and experience to get there!
I discovered Centre for Digital Media back in 2008 when I was nearing completion of my BFA in New Media at the University of Lethbridge. I was interested in pursuing graduate studies but in all my searches I couldn't find anything that stood out to me for a master's degree. So many programs focused on thesis writing and many of them lacked an option for real-world industry experience. Once I found the CDM website I knew it was the program for me. The early projects they worked on and showcased as well as the school's wild design style and format stood out to me the most. After that discovery, I focused my efforts on making sure I met all the application requirements and had my portfolio and reference letters ready for my application.
While students may enter the program with a variety of backgrounds, everyone is given an equal opportunity to learn technical, management and leadership skills together. One of my initial concerns was that I needed a computer science degree to work on the technical side of the projects. What I found once I started the program, however, is that I had the chance to learn how to manage and work with people from technical backgrounds that I did not fully understand. I learned how to work with coders, technical artists, UI people and designers through the program. Learning how to work together with others from different backgrounds to make highly successful digital media projects in compressed timeframes was one of the most valuable lessons I learned.
You may be wondering how you can make your journey into the MDM program happen. If you are considering the program but are unsure about the costs, I can assure you that it is worth the considerable effort and cost to move and upend your life, because the program itself is life changing. Moving to a different place in Canada can be a difficult task, and I experienced my own struggles to get here. It was a very stressful time, and I was concerned about finances. I had just enough money to move to Vancouver, and I didn't have any solid financial support like student loans lined up yet. I did get support from my community of Kainai for school costs, which I am forever grateful for, but I still needed more for living expenses. Luckily, I took a chance and my late Father said "it'll all work out" when I spoke to him once in tears because I was so stressed out about making the move. Through the national and provincial student loan program I was able to get student loans lined up not long after I started school! Everything did work out, I just needed to take the leap. You may have financial support available to you through your First Nations band or you may have other means such as savings, grants or scholarships available to you. I'd encourage you to research all avenues of funding available to you. In the great words of Tom Frisina (former MDM faculty) "If you don't ask, then you don't get".
After graduation I did a short foray into the television and digital media industry. I worked on animations for TV shows on APTN as well as interactive web projects for the Government of Canada and the Showcase Network. Not long after I found employment at the First Nations Health Authority (FNHA). My position at the FNHA is Website and Social Media Specialist and I manage our web platforms and social media accounts and campaigns. It's an excellent position and highly suited to my background. Many of my MDM colleagues have taken similar paths and found long-term employment, but many have jumped around and tried various jobs in the digital media industry in positions such as game producers, technical artists, software engineers, UI/UX designers and more. Over 20 startups have been created by MDM graduates. Whatever you want to do within the digital media industry, the MDM program will help you get there.
I hope to see more Indigenous students in the MDM program. I see so many Indigenous stories and projects shared through digital media, and if we're going to use digital media to tell our stories then we need to become masters of digital media.
__________
Our MDM alumni have a strong legacy of staying connected and giving back to the program. John approached the MDM team to collaborate on a project with the FNHA to help create an online platform to help raise awareness and engagement for cultural humility and safety. Read more about the project here.