Digital Media is a blend of technology and content, and building digital media products requires teams of professionals with diverse skills, including technical skills, artistic skills, analytical and production coordination skills.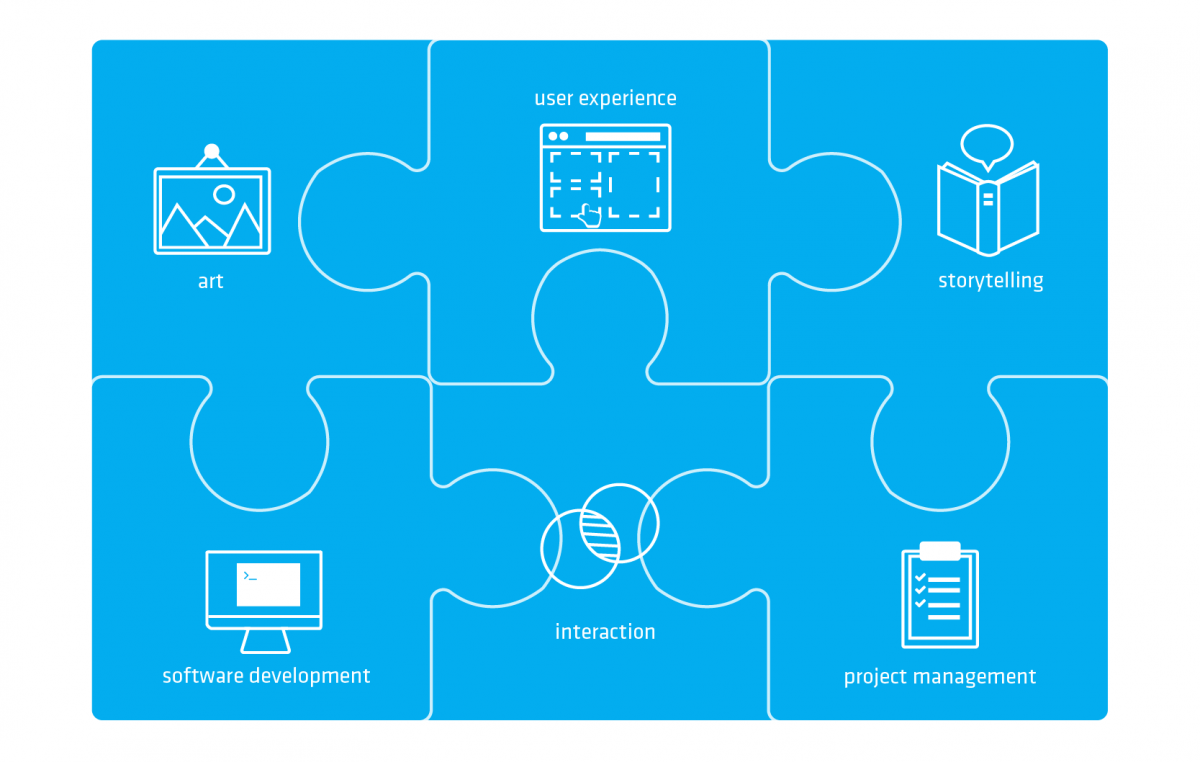 A weather app on a smartphone, a racing game on a video game console, and an ultrasound imaging device in a hospital are all digital media products. They are successful because they are engaging, easy to use, and deliver results. All of these skills need to be balanced on a team, with all team members focused on creating the best user experience.
Our world is populated by digital media products, and these products enable and deliver experiences in many industries, including industries that aren't typically associated with digital media—such as health, government, and education.
Digital media products can be found in:
eCommerce
Games – console, online and mobile
Websites and mobile applications
Animation
Social media
Video
Augmented reality
Virtual reality
Data visualization
Location-based services
Interactive Storytelling
Digital media can include these industries:
Entertainment
Technology
eCommerce
Non-Profit
Health
Education
Marketing and advertising
Government
Sports
Environment
Television
Publishing
How Does the Master of Digital Media Program Help You Become a Producer of Digital Media Products?
Organizations that build digital media products rely on multi-skilled teams and manage those teams with business processes designed to enhance their efficiency and effectiveness. For example, making a game requires storytellers, programmers, artists, data analysts, user experience designers, project managers and animators. "Throwing things over the wall" between siloed groups of experts is not an effective way to manage things. You have to ensure that they understand each other, work together creatively, and collectively pull off a result that delivers a world-class experience. The skills required to manage these multi-skilled team members and the fast-paced nature of the industry means that digital media producers, like our graduates, have to have communication and collaboration skills as well as a depth and breadth of knowledge that is unprecedented.
The Master of Digital Media (MDM) program educates students on these two aspects – working in multi-skilled teams and engaging with a wide range of modern, creative business processes – while making digital media products that deliver value for people. The MDM program is designed to help graduates develop six core competencies that will serve them well in their careers.
Students acquire these skills partly through classroom learning but mostly in experiential learning, working on multiple projects. Projects at MDM run throughout the three semesters. These projects require students to collaborate with colleagues with different skill sets, and they also get to practise the business processes they learn. Projects in semesters two and three are industry projects for real-world clients looking for digital media solutions.
The MDM caters to students with an entrepreneurial vision. In addition to developing their business skills, they also hone their abilities to pitch, seek the right partners and investors, and manage resources. We offer pitched project and 'venture internship' options to help you create and launch a new business with a new digital media product.