Located at Centre for Digital Media, this 16-month professional graduate program emphasizes collaborative, project-based learning where you will get hands-on experience developing digital media products.
Gain the skills organizations and recruiters value
The digital media industry needs people with the ability to work in multi-disciplinary teams, use design thinking, be agile, and manage clients—all in-demand skills you will learn in this graduate program.
Career support
Gain access to industry connections and career services.
Work with real clients
Work together with real-world clients to develop innovative applied solutions to real world problems.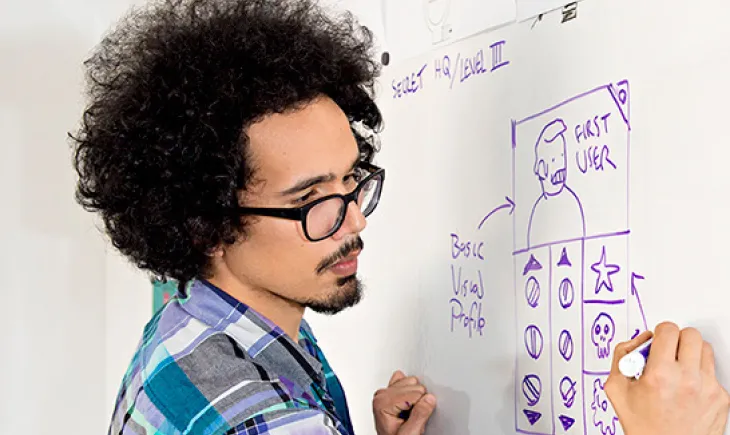 World Class Collaboration
Centre for Digital Media was established through the ground-breaking partnership of four leading academic institutions: The University of British Columbia (UBC), Simon Fraser University (SFU), Emily Carr University of Art + Design (ECU), and the British Columbia Institute of Technology (BCIT).
Through the MDM program, I met people from different disciplines that broadened my vision of building a product. Moreover, working with people from different backgrounds, facing various challenges, and solving them noticeably improved my problem-solving and soft skills
- Shayan Khorsandi, MDM Alumnus
Agile Developer, SAP
Gain real-world experience with industry and community-based partners
Our industry partners provide internships, employment opportunities, and work directly with you on research and development projects to test ideas, build prototypes, and validate proof-of-concepts.
The focus on emerging technologies and understanding the cycle of innovation are skills that I learned in the MDM that I use every day.
- Ryan Nadel, MDM Alumnus
Principal Product Manager, Microsoft Teams
Project based learning 
Student Innovation Projects are the heart of the MDM program. In multidisciplinary teams of four to six, students take on applied technology-focused projects to develop prototypes or applications from concept to deliverable.
See the viewbook
Want to learn more about the MDM? Check out our viewbook to see what makes the program unique, hear students and alumni's experiences, and find out if this program is right for you.

Funding
50% of students receive a scholarship. See what scholarships and other financial aid is available for you.

Attend a webinar
Stay tuned for our next webinar to learn more about the program, application process, and how to submit a strong application. This is also an opportunity to ask our admissions team questions.
MDM faculty
Our diverse faculty are leading thinkers and professionals with decades of experience in their fields.
Collaboration
Work effectively in teams by identifying team member capabilities and expectations, communicate and empathize with teammates across disciplines, practice giving and receiving constructive feedback, and develop your ability to contribute to and develop a high-performance culture.
Problem Solving
Build impactful products by understanding the stages of development. Identify and apply different design methodologies, use rapid prototyping to iterate quickly and effectively, and identify workflow problems and solutions.
Critical Thinking
Develop a growth mindset, understand links between ideas, apply systemic processes to validate theories, and learn how to objectively evaluate results and processes.
Leading and Managing
Become an effective leader by managing stakeholders, aligning team objectives to client business strategies, and developing techniques to build an inclusive organization, and empowering your team members.
Communication
Develop tools to tell impactful stories that will help you achieve your goals, compel audiences, and clearly express ideas and concepts.
Ideating and Innovating
Push the horizons of the field and develop innovative digital media technology solutions using agile processes to advance the industry to compete in a global marketplace.
Stay connected
Sign up for the latest news, application deadlines, and webinars about the MDM.